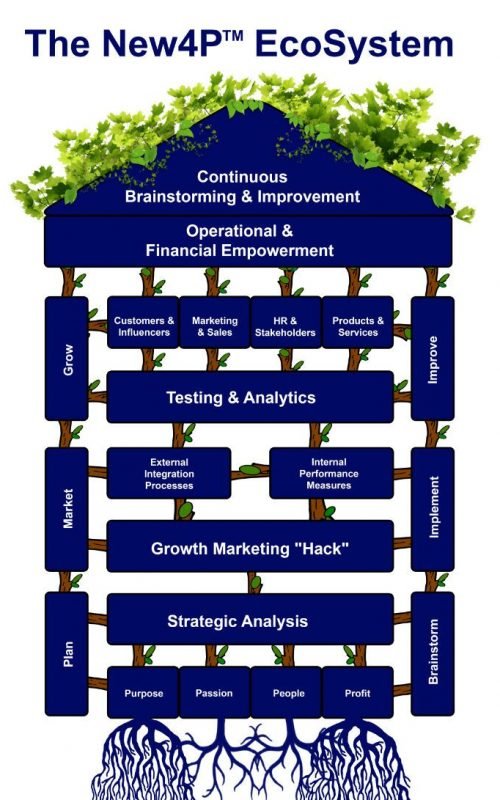 What Is The New4P™ EcoSystem?
The New4P™ is Business Growth Manager's proprietary growth system that streamlines and develop brands for continual growth. Here are some features and benefits:
A customizable business growth system with a data science approach rooted in the mission of your business: the passion and purpose of the entrepreneur.
Develops and deploys a business through brainstorming scientific queries, planning, analyzing, market tests, hypotheses, and implementation.
Unravels your business past and current systems, practices, activities and operations to establish a better system to work for the future.
Blends reporting, A.I. and analytics to give specific insights into the current status of all your sales, marketing, business development, client service, and HR foundations to measure and predict ongoing growth.
Why Trust Our Approach To Brand Building & Sustainable Business Growth?
We ask a different set of questions to get the answers and results your competitors are not getting. For example, the secret to identifying the DNA customer persona that fits into your business model.

We start with your company's history and work our way to the present to help you learn more about your mission so you can lead your business and team.

We employ growth strategies after developing a strong foundation where your company could differentiate, stand out and thrive.

To correct, streamline, and scale the productivity of systems, we analyze all stakeholders, employees, and partners' roles.

We conduct a holistic, in-depth study and re-positioning of your business to improve its adaptability and predictability for success.

We integrate strategy, innovation, value, and credibility to build your reputation.

Using scientific brainstorming, we quickly identify and clarify issues so you can address weaknesses and solve problems more quickly.

By taking advantage of our strategic planning services, you will understand your immediate environment so you can use the right tools to achieve business goals faster.

The way we manage growth is simple and flexible, and we integrate well with technological advances in your industry.

Our implementation results in a breakthrough that is built on the future development of core competencies, so your company can innovate successfully.

Our skills help you learn how to formulate more effective policies and systems to streamline focus, agility, performance, productivity and speed to market.

Assessment and accountability of internal and external stakeholders challenge remedial actions and create growth spurts.

Our methods keep your business on track to continuously create value for customers, ensuring continuous growth in sales revenue.

Our analytics provide key insights to ensure a sharp focus on revenue growth and financial empowerment, so it is easier to reboot your business.

Our technical and marketing strategies leverage social and other digital platforms to keep your business branding and growing on auto-pilot.

With our intransitive and holistic approach, you will always be able to anticipate the future direction of your business.